BREAKING NEWS

HCAA GENERAL MEETING, January 21, 2017, 12:30pm
Lecture Title:
The White Shaman Mural: An Enduring Creation Narrative in the Lower Pecos Canyonlands of Texas
Speaker: Dr. Carolyn E. Boyd, Research Director
and founder of Shumla Archaeological Research and Education Center
Location: Riverside Nature Center – 150 Francisco Lemos, Kerrville, Texas 78028
Abstract:
The prehistoric hunter-gatherers of the Lower Pecos Canyonlands of Texas and Coahuila, Mexico, created some of the most spectacularly complex, colorful, extensive, and enduring rock art of the ancient world. Perhaps the greatest of these masterpieces is the White Shaman mural, an intricate painting that spans some twenty-six feet in length and thirteen feet in height on the wall of a shallow cave overlooking the Pecos River. In discussing the White Shaman Mural, Carolyn E. Boyd takes us on a journey of discovery as she builds a convincing case that the mural tells a story of the birth of the sun and the beginning of time—making it possibly the oldest pictorial creation narrative in North America.
Unlike previous scholars who have viewed Pecos rock art as random and indecipherable, Boyd demonstrates that the White Shaman mural was intentionally composed as a visual narrative, using a graphic vocabulary of images to communicate multiple levels of meaning and function. Drawing on twenty-five years of archaeological research and analysis, as well as insights from ethnohistory and art history, Boyd identifies patterns in the imagery that equate, in stunning detail, to the mythologies of Uto-Aztecan speaking peoples, including the ancient Aztec and the present-day Huichol. This paradigm-shifting identification of core Mesoamerican beliefs in the Pecos rock art reveals that a shared ideological universe was already firmly established among foragers living in the Lower Pecos region as long as four thousand years ago.
Dr. Boyd will be doing a book selling and signing after her presentation.
Bio:
Dr. Carolyn E. Boyd is the Research Director and founder of a nonprofit corporation, Shumla Archaeological Research and Education Center (www.shumla.org). The organization's mission is to preserve through documentation and education the prehistoric art of southwest Texas and Coahuila, Mexico. She serves as Research Professor at Texas State University. Boyd received her doctorate in archaeology from Texas A&M University based on her analysis of the 4,000 year-old rock art of the Lower Pecos Canyonlands of s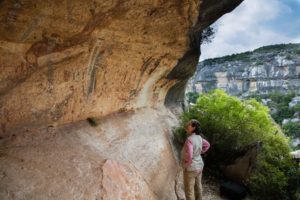 outhwest Texas. She is the author of Rock Art of the Lower Pecos, published in 2003 by Texas A&M University Press and The White Shaman Mural: An Enduring Creation Narrative, available through the University of Texas Press in the fall of 2016. She has published in numerous peer reviewed journals, such as Antiquity, American Antiquity, Latin American Antiquity, Revista Iberoamericana de Lingüística, and Archaeometry and has contributed chapters in several edited volumes. Boyd teaches Field Methods in Rock Art, a three-week field school offered through Texas State University, gives numerous lectures around the country and abroad, serves on graduate committees, and is the Principal Investigator for the Lower Pecos Border Canyonlands Archaeological Project.
(click above for application)

HCAA GENERAL MEETING, November 19, 2016, 12:30pm
Lecture Title: BEYOND BASIC ARCHEOLOGY TRAINING
Speakers: Steve Stoutamire and other Hill Country Archeology Association Principal Investigators will review current and recent HCAA archeological site work
Location: Riverside Nature Center – 150 Francisco Lemos, Kerrville, Texas 78028
Abstract:
Steve will describe the training programs which the HCAA has for its members. He will also focus on the advanced training that members can receive in order to qualify as "principal archeologists" to be leaders for archeology field and lab work. Several HCAA members currently in the "PA" training program will present brief highlights of their training as well as the sites they have been assigned to work on.
Bio:
Steve Stoutamire is a retired petroleum geologist with an MS in geology from Texas Tech University and a BA in Anthropology/ Archeology from Florida State University. Since retirement in 2007 he has devoted much of his time to the archeology of the hill country of Texas through both site work and public education of professional archeology standards and topics. He is a member, and past president, of the Hill Country Archeology Association (HCAA), member of the Texas Archeology Society and serves as a Texas Archeology Steward for the Texas Historical commission.
ARCHEOLOGY CELEBRATION
GRAND SUCCESS!

NEWS FROM HCAA FIELDWORK

Kemosabe Project – February 2016

Even cold, windy conditions at Kemosabe can't stop the progress!!
Operations are continuing at the Kemosabe project. To date over 30 square meters of excavation units have been opened there as well as four back hoe trenches and 92 auger hole tests. Over 12 separate forms of diagnostic dart or arrow points found thus far date the site from lower early archaic to late pre-historic. The latest excavations have revealed several separate hearth features. These and others yet to be found will be examined for charcoal samples to use in radio carbon dating the stratigraphy/occupation surfaces. Select soil samples associated with the hearths are also being collected for flotation analysis to identify plants processed and eaten at the site.
Please come join in the fun and discoveries at this large prehistoric site complex! The HCAA crew is working in the lab and/or field weekly. Contact Kay Woodward or Steve Stoutamire for more information.
MUST SEE
To contact us:
Mail your inquiries to HCAA, PO Box 290393, Kerrville Texas 78029-0393

"Never neglect details." – Colin Powell