BREAKING NEWS
General Meeting, May 19, 2018
Doors open at 12:30 pm with refreshments. Lecture begins at 1:00 pm.
Speaker: Dr. Harry J. Shafer, PhD, Professor Emeritus, Texas A&M University, Curator of Archaeology, Witte Museum
Topic:

"Bison: Human Predation and Climate Change"
Abstract:
This talk is about bison predation by prehistoric Indians and climate. Bison were valuable resources for food and trade to central Texas Indian groups but were not always present. The climate over the past 12,000 years has gradually warmed but during that time several cold episodes had dramatic affect on bison movements into central Texas.
The ebb and flow of bison presence and absence significantly impacted the economy and lifeways of the native Indian groups. Trade, establishing territorial rights, and internecine warfare were all consequences of bison presence. In this talk I highlight the material expressions left behind during the bountiful and lean times that help us tell the story of central Texas' dynamic past.
Bio: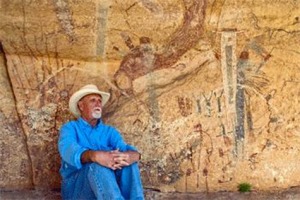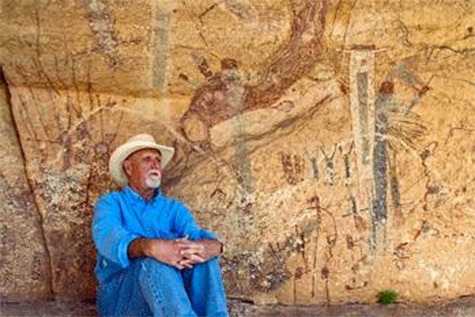 Dr. Shafer is the Curator of Archaeology at the Witte Museum. He received his Bachelor of Arts and Doctor of Philosophy degrees in Anthropology at The University of Texas at Austin. He was employed for 10 years as an archaeologist at UT-Austin before moving to Texas A&M University in 1972 to establish the archaeology program. He retired after 30 years of teaching at Texas A&M University and moved to San Antonio.
His research specialty is material culture, especially lithics, ceramics, architecture, and mortuary patterns. His field research areas include Texas, the Mimbres and Jornada areas of the American Southwest, and southern Maya Lowlands in Belize.
Dr. Shafer has authored or co-authored over 300 monographs, journal articles, book chapters, and posters. He has written two books, Ancient Texans: Art and Lifeway Along the Lower Pecos, and Mimbres Archaeology at the NAN Ranch Ruin, New Mexico, and has co-authored two books, Maya Stone Tools and Field Methods in Archaeology and edited Painters in Prehistory: Archaeology and Art of the Lower Pecos Canyonlands. He co-owns an archaeological consulting business Abasolo Archaeological Consultants with Dr. Thomas Hester in San Antonio Texas.
Location: Riverside Nature Center – 150 Francisco Lemos, Kerrville, Texas 78028
UPDATE ON KEMOSABE PROJECT
Kemosabe Project gets first radiocarbon date!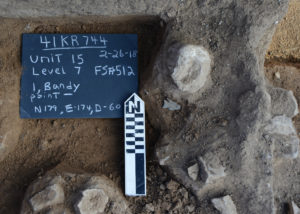 Charcoal from a rock hearth feature at Kemosabe is 7280 to 7420 years old based on C14 radiocarbon dating (calibrated). We have discovered 12 other rock hearths and four larger middens at the site, some also having charcoal, however this latest hearth had the best quality charcoal AND an associated dart point!
Although initially thought to be a "Martindale" , further examination as well as the radiocarbon date suggests that the dart point is a Bandy, wh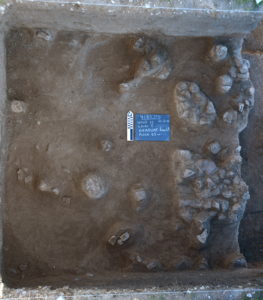 ose style was popular in Central Texas 6,000 to 8,000 years ago. The first pyramids in Egypt are thought to have been built 4,600 years ago, so this Bandy point is almost twice as old as the Egyptian pyramids.
After four years of excavation work at the Kemosabe site we have discovered over 100 projectile points, representing 21 dart point types or styles and one arrow point type. Also discovered were 232 bifaces, 68 cores, 18 ground or pecked stone tools and 54,000 flakes—most of the flakes are debitage (waste flakes) produced when the occupants knapped chert tools and projectile points.
Only a small portion of the total Kemosabe site has been excavated but future excavations will, among other things, focus on pushing the site occupation farther back in time to yield calibrated C14 dates earlier than this first one.
UPDATE ON 2018 FIELD & LAB TRAINING COURSE
The 2018 class has started off well. We have 15 students this year and had to turn away another three due to space limitations. By far the biggest class so far. Thus far Mike and Steve have taught two classes on lithics, basics of archeology and site types in Central Texas. They will then do field techniques, lab techniques, and finally mapping procedures, for a total of 5 classes.
HCAA AWARDS & HONORS
2018 Lifetime Achievement Award presented to Bryant Saner
Congratulations Bryant!
NEWS FROM HCAA FIELDWORK

Kemosabe Project - March 2017
Operations continue at the large Kemosabe site and are yielding some valuable information. There have been 25 square meters of excavations so far plus 7 back hoe trench excavations. Diagnostic materials indicate a multi-component site ranging in age from Early Archaic to Late Prehistoric.
Multiple discrete features have been found thus far within the Early Archaic levels and several have associated charcoal, bone and diagnostic lithics. The HCAA has been working this site for 3 1/2 years and there is no end in sight as new and valuable information continues to be revealed from excavations.
Please come join in the fun and discoveries at this large prehistoric site complex! The HCAA crew is working in the lab and/or field weekly. Contact Steve Stoutamire for more information.
MUST SEE
To contact us:
Mail your inquiries to HCAA, PO Box 290393, Kerrville Texas 78029-0393

"Never neglect details." - Colin Powell