B

REAKING NEWS . . .
HCAA GENERAL MEETING, November 18, 2017
Doors open at 12:30 pm with refreshments. Lecture begins at 1:00 pm.
Speaker: Kat Brown, Associate Professor, UTSA, Anthropology Department  
Lecture Title:

The Chamber of Secrets at Xunantunich, Belize: Investigating Ancient Maya Sages 
Abstract: 
Although ancient Maya graffiti has been documented at a number of sites, our understanding of this art form remains limited. New evidence from the ancient Maya site of Xunantunich may shed light on the function of graffiti in certain contexts. Investigations at El Castillo, a 39 meter tall acropolis, uncovered a Late Classic eastern room that was carefully filled with clay and stacked stones. The walls were covered with incised images and designs, ranging from simple sketches (graffiti) to more formal renderings.
In this presentation, we suggest that this room was a special place where an ancient Maya Sage trained apprentices in the arts and sacred knowledge. Lending support to this interpretation, the walls were partitioned into sections and several images were repeated as if the designs were being practiced. This suggests that some plastered walls were not simply structural but also served as canvases for sketching, artistic training, and learned scribal expression. This newly discovered chamber of secrets provides a glimpse into how ancient Maya sacred knowledge was passed on.
Bio:
M. Kathryn Brown is the Lutcher Brown Endowed Associate Professor in Anthropology at the University of Texas at San Antonio. She received her Ph.D in Anthropology at Southern Methodist University in 2003. Her research focuses on the rise of complexity in the Maya lowlands and the role of ritual and ceremonial architecture in the Preclassic period.
Much of her research examines questions related to the development of divine kingship during the Preclassic and how this institution is continually maintained and legitimized during the Classic period through religion, economy, and warfare. She is currently the director of the Mopan Valley Preclassic Project and co-director of the Mopan Valley Archaeological Project.
She has focused her recent investigations at the site of Xunantunich, Belize. She is the coeditor of Ancient Mesoamerican Warfare (with Travis Stanton, 2003) and Pathways to Complexity: A View from the Maya Lowlands (with George J. Bey III, 2018), and she has several recent publications that have appeared in Mexicon, Advances in Archaeological Practice, Latin American Antiquity, and Research Reports in Belizean Archaeology.
Location: Riverside Nature Center – 150 Francisco Lemos, Kerrville, Texas 78028
COMMUNITY NEWS​
​
Frontier Days, October 20 & 21, Grand Success!
Here are some pics of HCAA's participation in this awesome annual event!
There were two days of continuous Living History featuring Military, Frontier Lawmen, Native Americans and Civilians representing the fort's active time period with special events for children. ​Each day visitors experienced Flag Ceremonies, Military Drills, Life in a Frontier Lawmen Camp and numerous displays, including Indian artifacts, Sutler Store, Pioneer Cooking and Pioneer Crafts.
Hill Country Archeological Association demonstrated Indian arrowhead making and displayed prehistory artifacts from the area. Visit Fort Martin Scott to learn more.
​​

K-12 SUMMER SYMPOSIUM (2017), sponsored by Texas A&M University
The HCAA recently took part in a symposium for Texas elementary and high school teachers held in Kerrville the week of July 24th. This event is sponsored by Texas A & M University and is called The K-12 Summer Institute.
It is focused on further training of teachers in science and related fields. There were over 200 teachers attending this years conference and the HCAA conducted all day classes in archeology for two of those days.
Morning sessions were in class rooms and afternoon sessions were in the field performing actual professional style excavations. The teachers learned about what archeology is, related fields of it, life ways of ancient Native Americans of Texas, tools and weapons they used, etc. including handling of a variety of lithic artifacts. A total of 30 teachers attended the HCAA classes over the two days.
Another generous donation has been received by the HCAA from Mr. Marvin Glasgow.  Mr. Glasgow delivered hard copies of annual bulletins for the Texas Archeology Society covering over the last 30 years.
These valuable publications will be used by the HCAA in its educational programs and for HCAA members to enhance their own knowledge of Texas archeology.
In an earlier donation this year Mr. Glasgow gave the HCAA an extensive collection of his lithic artifacts.  These have already served a major purpose as they were used as teaching materials by the HCAA for the Texas A & M Summer Institute for Texas elementary and high school teachers held in Kerrville the week of July 31, 2017.
Thanks again Marvin!"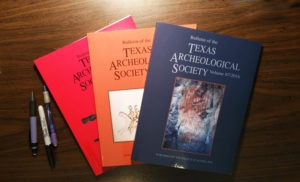 In celebration of Texas Archaeology Month, City of San Antonio . . .
NEWS FROM HCAA FIELDWORK

Kemosabe Project – March 2017
Operations continue at the large Kemosabe site and are yielding some valuable information. There have been 25 square meters of excavations so far plus 7 back hoe trench excavations. Diagnostic materials indicate a multi-component site ranging in age from Early Archaic to Late Prehistoric.
Multiple discrete features have been found thus far within the Early Archaic levels and several have associated charcoal, bone and diagnostic lithics. The HCAA has been working this site for 3 1/2 years and there is no end in sight as new and valuable information continues to be revealed from excavations.
Please come join in the fun and discoveries at this large prehistoric site complex! The HCAA crew is working in the lab and/or field weekly. Contact Steve Stoutamire for more information.
MUST SEE
To contact us:
Mail your inquiries to HCAA, PO Box 290393, Kerrville Texas 78029-0393

"Never neglect details." – Colin Powell