B

REAKING NEWS
HCAA GENERAL MEETING, September 16, 2017
Doors open at 12:30 pm with refreshments. Lecture begins at 1:00 pm.
Speaker: Eric Schroeder, BA, MA, MS, Anthropology, Archeology, Geography 
Lecture Title:

AN INVESTIGATION INTO LATE PREHISTORIC TRADE FAIR SITES IN TEXAS
Abstract: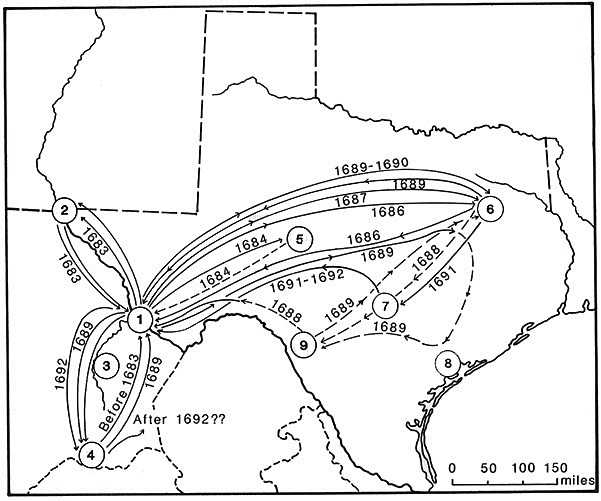 Archeologists have used the term, "trade fair" to describe a cluster of spatially distinct contemporaneous artifact assemblages within a particular site that are understood to represent distinct cultural groups who engaged in exchange. Such an inference has been taken as being somewhat tenuous, as it is based largely on conje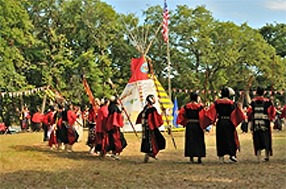 cture and lacks the robustness to be considered a meaningful archeological pattern. This talk seeks to enhance our understanding of prehistoric trade fair sites by proposing an improved model of this phenomenon – one that incorporates ethnohistoric and ethnographic data on native trade practices.
Bio: 
Eric Schroeder is currently a PhD Candidate at the University of Texas at Austin writing his dissertation on how prehistoric mobile populations in Texas between A.D. 1250 and 1700 organized their internal politics. His work focuses on the particular strategies tribal and group leaders employed to establish and maintain leadership and control over intertribal coalitions. In addition to his academic interest, Eric is a long-time professional in archeology and historic preservation, and operates his own archeological consulting firm out of the Austin area. Eric was raised in west Texas, where as a young lad he learned the value of a good hard days work as a farmhand on his family's farm. He is a retired US Army combat veteran, and currently lives in Bastrop County with his wife Susan.
Location: Riverside Nature Center – 150 Francisco Lemos, Kerrville, Texas 78028
K-12 SUMMER SYMPOSIUM (2017), sponsored by Texas A&M University
The HCAA recently took part in a symposium for Texas elementary and high school teachers held in Kerrville the week of July 24th. This event is sponsored by Texas A & M University and is called The K-12 Summer Institute.
It is focused on further training of teachers in science and related fields. There were over 200 teachers attending this years conference and the HCAA conducted all day classes in archeology for two of those days.
Morning sessions were in class rooms and afternoon sessions were in the field performing actual professional style excavations. The teachers learned about what archeology is, related fields of it, life ways of ancient Native Americans of Texas, tools and weapons they used, etc. including handling of a variety of lithic artifacts. A total of 30 teachers attended the HCAA classes over the two days.
COMMUNITY NEWS
​
​
Friday, October 20, 2017, 10:00 A.M. – 4:00 P.M.
Saturday, October 21, 2017, 10:00 A.M. – 4:00 P.M.
Two days of continuous Living History featuring Military, Frontier Lawmen, Native Americans and Civilians representing the fort's active time period with special events for children.
Friday is School Day with planned activities for School Groups (including Home Schoolers). Pioneer Crafts, Musicians, Story Tellers, Arrowhead making, and much more.
​Each day visitors will experience Flag Ceremonies, Military Drills, Life in a Frontier Lawmen Camp and numerous displays, including Indian artifacts, Sutler Store, Pioneer Cooking and Pioneer Crafts.
Hill Country Archeological Association will demonstrate Indian arrowhead making and display prehistory artifacts from the area. Something for the entire family.
For more details, visit Fort Martin Scott.
FREE ADMISSION
Thanks to Fort Martin Scott 2017 Events Sponsors, Crenwelge Motor Group and Texas Jack Wild West Outfitter,
admission to all their 2017 events are FREE!
​​

Another generous donation has been received by the HCAA from Mr. Marvin Glasgow.  Mr. Glasgow delivered hard copies of annual bulletins for the Texas Archeology Society covering over the last 30 years.
These valuable publications will be used by the HCAA in its educational programs and for HCAA members to enhance their own knowledge of Texas archeology.
In an earlier donation this year Mr. Glasgow gave the HCAA an extensive collection of his lithic artifacts.  These have already served a major purpose as they were used as teaching materials by the HCAA for the Texas A & M Summer Institute for Texas elementary and high school teachers held in Kerrville the week of July 31, 2017.
Thanks again Marvin!"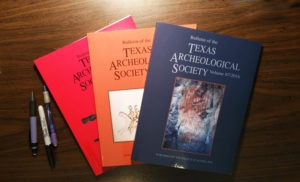 In celebration of Texas Archaeology Month, City of San Antonio . . .
NEWS FROM HCAA FIELDWORK

Kemosabe Project – March 2017
Operations continue at the large Kemosabe site and are yielding some valuable information. There have been 25 square meters of excavations so far plus 7 back hoe trench excavations. Diagnostic materials indicate a multi-component site ranging in age from Early Archaic to Late Prehistoric.
Multiple discrete features have been found thus far within the Early Archaic levels and several have associated charcoal, bone and diagnostic lithics. The HCAA has been working this site for 3 1/2 years and there is no end in sight as new and valuable information continues to be revealed from excavations.
Please come join in the fun and discoveries at this large prehistoric site complex! The HCAA crew is working in the lab and/or field weekly. Contact Steve Stoutamire for more information.
MUST SEE
To contact us:
Mail your inquiries to HCAA, PO Box 290393, Kerrville Texas 78029-0393

"Never neglect details." – Colin Powell