B

REAKING NEWS . . .
GENERAL MEETING, January 20, 2018
Doors open at 12:30 pm with refreshments. Lecture begins at 1:00 pm.
Speaker:

Dr. David Maltsberger PhD, Professor, School of Religion and Philosophy, Wayland Baptist University, San Antonio campus
Lecture Title:

"With My Own Two Hands": A Survey of Domestic, Military, and Agricultural Lithic Artifacts in the Ancient Near East
Abstract: 
The lithic story of the Ancient Near East extends from the Paleolithic period into later periods when copper, bronze, and iron implements began to appear alongside earlier stone tools. Yet, the widespread use of stone tools and weapons did not entirely diminish in the Bronze and Iron Ages.
Domestic hand tools,
agricultural blades, and mace heads and slingstones provide insights into the extended functionality of these utilitarian collections that allowed for the settlement and conquest of the Near East despite changes in social structures and political rule.
Beginning with a survey of the development and spread of stone tools across the cultural spectrum, we will examine how various lithic assemblages that appeared by the Neolithic Period evolved and remained an integral part of the life of the peoples of the Levant for millennia side by side with their more durable metal counterparts.
Bio: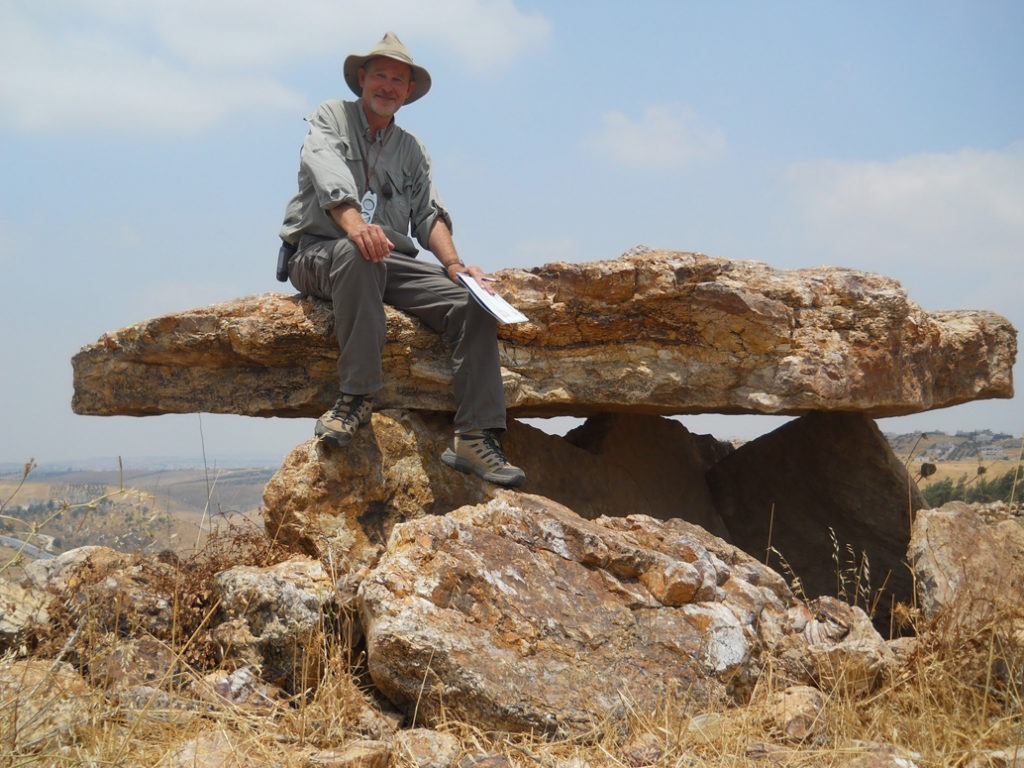 David Maltsberger serves as a Professor in the School of Religion and Philosophy at Wayland Baptist University's San Antonio campus. Since 1984 he has participated in and served as principle investigator on archaeological projects in Israel, Jordan, and Turkey.
His work has included studies of Late Bronze Age scarabs and seals in Israel, several surveys of Jordanian megalithic funerary monuments of the Early Bronze Age, and, more recently, studies of Greco-Roman sacred iconography in SE Turkey. He and his wife Elaine live in Boerne and have four adult children.
Location: Riverside Nature Center – 150 Francisco Lemos, Kerrville, Texas 78028
COMMUNITY NEWS
K-12 SUMMER SYMPOSIUM (2017), sponsored by Texas A&M University
The HCAA recently took part in a symposium for Texas elementary and high school teachers held in Kerrville the week of July 24th. This event is sponsored by Texas A & M University and is called The K-12 Summer Institute.
It is focused on further training of teachers in science and related fields. There were over 200 teachers attending this years conference and the HCAA conducted all day classes in archeology for two of those days.
Morning sessions were in class rooms and afternoon sessions were in the field performing actual professional style excavations. The teachers learned about what archeology is, related fields of it, life ways of ancient Native Americans of Texas, tools and weapons they used, etc. including handling of a variety of lithic artifacts. A total of 30 teachers attended the HCAA classes over the two days.
Another generous donation has been received by the HCAA from Mr. Marvin Glasgow.  Mr. Glasgow delivered hard copies of annual bulletins for the Texas Archeology Society covering over the last 30 years.
These valuable publications will be used by the HCAA in its educational programs and for HCAA members to enhance their own knowledge of Texas archeology.
In an earlier donation this year Mr. Glasgow gave the HCAA an extensive collection of his lithic artifacts.  These have already served a major purpose as they were used as teaching materials by the HCAA for the Texas A & M Summer Institute for Texas elementary and high school teachers held in Kerrville the week of July 31, 2017.
Thanks again Marvin!"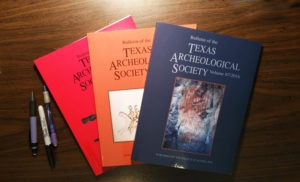 In celebration of Texas Archaeology Month, City of San Antonio . . .
NEWS FROM HCAA FIELDWORK

Kemosabe Project – March 2017
Operations continue at the large Kemosabe site and are yielding some valuable information. There have been 25 square meters of excavations so far plus 7 back hoe trench excavations. Diagnostic materials indicate a multi-component site ranging in age from Early Archaic to Late Prehistoric.
Multiple discrete features have been found thus far within the Early Archaic levels and several have associated charcoal, bone and diagnostic lithics. The HCAA has been working this site for 3 1/2 years and there is no end in sight as new and valuable information continues to be revealed from excavations.
Please come join in the fun and discoveries at this large prehistoric site complex! The HCAA crew is working in the lab and/or field weekly. Contact Steve Stoutamire for more information.
MUST SEE
To contact us:
Mail your inquiries to HCAA, PO Box 290393, Kerrville Texas 78029-0393

"Never neglect details." – Colin Powell