BREAKING NEWS

HCAA GENERAL MEETING, September 17, 2016, 12:30pm
Lecture Title: RECENT LUAS PROJECTS
Speakers: Chuck Hixson, Professional Archeologist and member of Llano Uplift Archeological Society, Lisa Weatherford, LUAS president, Jim Wukasch, LUAS Treasurer.
Location: Riverside Nature Center – 150 Francisco Lemos, Kerrville, Texas 78028
Abstract:
Nearly every third Saturday of the month, LUAS schedules a field trip, usually to survey on private ranches for archaeological sites. Occasionally we make return visits to the same site for more long-term investigation. Lisa will give an overview of recent LUAS field trips. Chuck will discuss the Wilson site, an aboriginal camp on the San Saba river that may date to the early historic period. Jim will talk on the Greenleaf Fisk cabin that LUAS recorded in Williamson County. Fisk was an important early Texas pioneer and public official.

Bio:
The quiet but steady force behind many of the Llano Uplift Archeological Society projects, like the Graham-Applegate Site study,  is Chuck Hixson, an archeologist trained in the southwest but knowledgeable about the idiosyncrasies of central Texas prehistory. While attaining his B.A. and M.A. degrees in anthropology at the University of Texas at Austin, H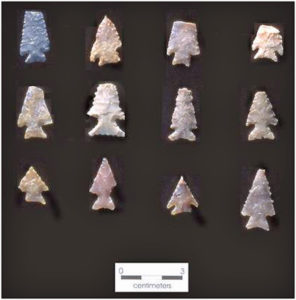 ixson developed a keen interest in southwestern pottery-making technology that developed into a thesis project (his topic was a study of the paint on Mogollon Black-on-White pottery). Today, he has transformed his technical knowledge into an art. Using open firing pits and aboriginal techniques, Hixson produces exquisitely thin-walled, bone-tempered vessels from clays he has collected from throughout the local area.
Several of his vessels are on display at the Nightengale Archeology Center in Kingsland, providing a startlingly graphic example of the artistic capabilities of the Late Prehistoric peoples in Texas. He also reproduces prehistoric Southwestern pottery of several different styles, including the fine Mimbres Black-on-White.
Rendezvous at the River was a Grand Success!
COMMUNITY NEWS
"Maya: Hidden Worlds Revealed"
Date: May 14-September 5, 2016
Location: Witte Museum, San Antonio, Texas Exhibit
Exhibit open during regular museum hours
So grand, so immersive and so comprehensive that the Witte Museum brought it to San Antonio as the debut exhibition of the Museum's new Mays Family Center.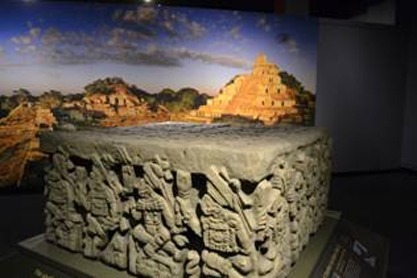 Maya is the largest traveling exhibition about the Maya ever to be toured in the United States, and this is the Texas premiere of the exhibition. Maya uses a combination of authentic artifacts along with multimedia and interactive, hands-on activities to reveal our deep ties to this astonishing civilization.
"The Witte is breaking the mold with the Mays Family Center, and it is only fitting to have this world-class exhibition open San Antonio's new cultural gem," says Marise McDermott, President and CEO of the Witte Museum. "Maya: Hidden Worlds Revealed beautifully represents the impact the Maya had on the world we live in today. The exhibition is immersive, so that entire families can experience the way Mayans lived, learning their calendars, mathematics, and cosmology through interactive opportunities.
The exhibition is massive, the largest ever at the Witte, so we recommend scheduling a longer than average time to enjoy the exhibition, demonstrations and programs."
Exhibition Highlights:
230 artifacts
27 unique interactive
7 different environments
In English and Spanish
Lectures during the Exhibit
2015 Archeologist & Volunteer of the Year Awards presented by Steve Stoutamire
Congratulations Ed Rendon and Kris Bobbitt!!
2015 Field Committee Award presented to John Forister
NEWS FROM HCAA FIELDWORK

Kemosabe Project – February 2016

Even cold, windy conditions at Kemosabe can't stop the progress!!
Operations are continuing at the Kemosabe project. To date over 30 square meters of excavation units have been opened there as well as four back hoe trenches and 92 auger hole tests. Over 12 separate forms of diagnostic dart or arrow points found thus far date the site from lower early archaic to late pre-historic. The latest excavations have revealed several separate hearth features. These and others yet to be found will be examined for charcoal samples to use in radio carbon dating the stratigraphy/occupation surfaces. Select soil samples associated with the hearths are also being collected for flotation analysis to identify plants processed and eaten at the site.
Please come join in the fun and discoveries at this large prehistoric site complex! The HCAA crew is working in the lab and/or field weekly. Contact Kay Woodward or Steve Stoutamire for more information.
MUST SEE
To contact us:
Mail your inquiries to HCAA, PO Box 290393, Kerrville Texas 78029-0393

"Never neglect details." – Colin Powell