BREAKING NEWS
HCAA GENERAL MEETING, May 20, 2017
Doors open at 12:30 pm with refreshments. Lecture begins at 1:00 pm.
Speaker: Dr. Thomas R. Hester, PhD
Lecture Title: OBSIDIAN AT ARCHAEOLOGICAL SITES IN CENTRAL AND SOUTHERN TEXAS; THEIR GEOLOGICAL SOURCES AND  CULTURAL IMPLICATIONS
Abstract: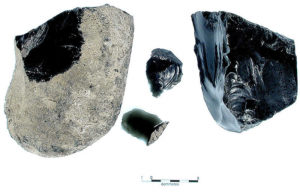 Since 1970, the Texas Obsidian Project has analyzed dozens of obsidian flakes, broken bifaces, and arrow points from a wide range of central and south Texas sites The geochemical analyses done through X-ray fluorescence and neutron activation techniques have linked these pieces to distant obsidian outcrops, from southern Idaho to western Mexico. Moreover, the time frame for the obsidian artifacts ranges from Clovis times on up to the Historic era.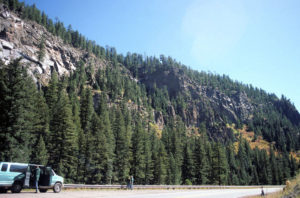 Perhaps the most surprising aspect of this project has been the identification of Mexican obsidian sources at about 20 sites in central and south Texas. Some of these sources lie 600-800 miles distant. At one site in Medina County, 4 pieces of obsidian were found  – from 2 different sources in the State of Jalisco, Mexico.
The growing database on Texas obsidian sources has allowed us to assess its cultural meaning in hunter-gatherer groups, yet leaves several mysteries that continue to be pursued.
Bio: 
Dr. Hester is a native of Carrizo Springs and now lives in Marble Falls. His  BA is from UT-Austin, and his Ph.D., UC-Berkeley. He taught for more than  30 years at UTSA and at UT-Austin. He has done archaeological research in  Texas, Mexico, Belize, California, and Montana, and is the author of more than  600 published books, monographs and articles on his studies.
Location:

Riverside Nature Center

– 150 Francisco Lemos, Kerrville, Texas 78028
NEWS FROM HCAA FIELDWORK

Kemosabe Project – March 2017
Operations continue at the large Kemosabe site and are yielding some valuable information. There have been 25 square meters of excavations so far plus 7 back hoe trench excavations. Diagnostic materials indicate a multi-component site ranging in age from Early Archaic to Late Prehistoric.
Multiple discrete features have been found thus far within the Early Archaic levels and several have associated charcoal, bone and diagnostic lithics. The HCAA has been working this site for 3 1/2 years and there is no end in sight as new and valuable information continues to be revealed from excavations.
Please come join in the fun and discoveries at this large prehistoric site complex! The HCAA crew is working in the lab and/or field weekly. Contact Steve Stoutamire for more information.
MUST SEE
To contact us:
Mail your inquiries to HCAA, PO Box 290393, Kerrville Texas 78029-0393

"Never neglect details." – Colin Powell