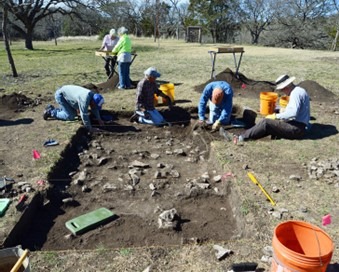 Welcome to the Hill Country Archeological Association in Kerrville, Texas.
Who we are and what we do
The HCAA is a group of avocational and professional archeologists working together to study and preserve the Texas Hill Country's prehistoric and historic heritage, and to educate the public about archeology.
The task of HCAA is to survey and record details about archeologically significant sites before they are lost, due to collecting, erosion, and the rapidly increasing development of the Texas Hill Country. To accomplish this, we cultivate public interest in the history and prehistory of this area.
HCAA Presents our September General Meeting, Saturday, September 16, 2023, 12:30 p.m.
Riverside Nature Center
150 Francisco Lemos, Kerrville
Doors open at 12:30
Social Time 12:30 - 1:00
Organization meeting at 1 p.m. followed by Presentation
Free and open to the public!
Refreshments will be Served.
Featured Presentation:
Early African American Families in Gillespie County and The Colored People's Cemetery of Der Stadt Friedhof Cemetery, Fredericksburg, Texas

by
Dr. Paul Phillips III MD COL (ret) US Army
Abstract:
  In the early 1850s, there was only one farm/plantation with slaves, The Doss Plantation, east of Fredericksburg, Texas. About 100 slaves/Africans were brought west to begin farming in Gillespie County. The story of these remaining families is "Lost History" in the community of Fredericksburg and Gillespie County. This presentation reveals the presence of a culture that was integrated into the community before and after the Civil War and whose story is yet to be fully told.
Paul Phillips III, M.D. Biography: Dr. Paul Phillips III was born and raised in Fredericksburg. He graduated from Fredericksburg High School with Honors. He went on to serve his country in the U.S. Army: in addition to serving several years in the Army Reserve, he deployed overseas ten times over a 16-year period until finally retiring as Colonel from the U.S. Army in 2018, with a service record of 24 years. Dr. Phillips was awarded the Doctor of Medicine degree from the University of Texas Health Science Center School of Medicine and did his Orthopedic Residency at MLK/Drew. He is currently an orthopedic surgeon specializing in hand and microvascular surgery with a practice in Fredericksburg while maintaining membership in a number of orthopedic surgery societies. Dr. Phillips' current work with sites of historical significance to Fredericksburg's African American community has him involved with the restoration of the Colored People's  Church of Gillespie County and with the newly designated Colored People's Section of Der Stadt Friedhof in Fredericksburg. He and his wife have two sons and two daughters and are residents of Fredericksburg.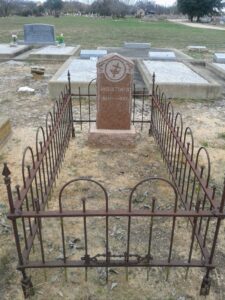 Colored People's Section of Der Stadt Friedhof in Fredericksburg / Photo by Françoise Wilson
Restoration work at the Colored People's Church in Fredericksburg / Photo by Dr. Paul Phillips III.
HCAA Newsletter for May, 2023, is Published
Dialogues with Dirt" has all the current news, events, and research articles for HCAA! Read all about it here.