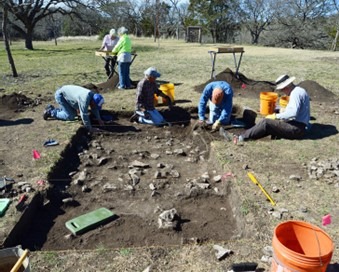 Welcome to the Hill Country Archeological Association in Kerrville, Texas.
Who we are and what we do
The HCAA is a group of avocational and professional archeologists working together to study and preserve the Texas Hill Country's prehistoric and historic heritage, and to educate the public about archeology.
The task of HCAA is to survey and record details about archeologically significant sites before they are lost, due to collecting, erosion, and the rapidly increasing development of the Texas Hill Country. To accomplish this, we cultivate public interest in the history and prehistory of this area.
HCAA will hold our November General Meeting, Saturday, November 18, 2023, 12:30 p.m.
"From Paleo-Indians to Henry Rifles: 10,000 years of Kerr County Archeology"
The Hill Country Archeological Association will have our General Meeting on
Saturday, November 18th at:
Riverside Nature Center
150 Francisco Lemos St.
Kerrville, Texas
Free and open to the public!
Doors will open at 12:30 p.m.
With sign-in for members and guests.
HCAA has planned a fun and educational afternoon for all interested in the Hill Country's rich history.
HCAA President Mike McBride will tell the story of our archeological research preserving Texas History.
We will also display artifacts from the times of early settlers who braved perilous frontier times, all the way through the lifeways of ancient Native Americans who first arrived over 10,000 years ago.
HCAA invites our members, friends, and the public to learn more about our work researching the archeology of the Hill Country and meet our experts in the region's history.
HCAA Newsletter for May, 2023, is Published
Dialogues with Dirt" has all the current news, events, and research articles for HCAA! Read all about it here.