HCAA General Meeting, January 19, 2019
***P.A. System NOW at Meetings!***
Doors open at 12:30 pm with refreshments. Meeting begins at 1:00 pm.
Topic:

"Constructing Power in the Preclassic Maya: Monumental Architecture and Sociopolitical Inequality at Early Xunantunich, Belize"
Speaker:

Zoe Rawski, Anthropologist, UTSA
Abstract: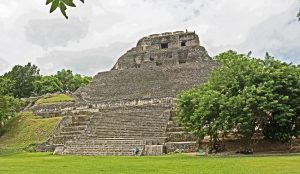 This research focuses on the origins of sociopolitical inequality and, eventually, divine kingship at the site of Early Xunantunich in Belize. Rawski examines this topic primarily through an analysis of public monumental architecture and how these buildings change through time.
She also emphasizes the importance of ritual performance, feasting, and the exchange of exotic goods in the consolidation of sociopolitical power, and discusses how this played a role in the development of kingship in the region. She will also discuss some of the exotic materials found, including a set of late Preclassic jade diadem jewels which are an indicator of early kingship in the region.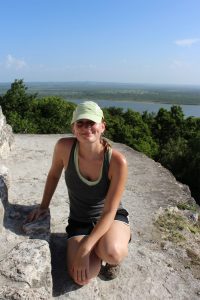 More on Xunantunich: Xunantunich Maya Site Belize, Xunatunich Wikipedia
Bio:
Zoe Rawski is a PhD candidate at the University of Texas at San Antonio. She received her M.A. from UTSA in 2018 and her B.A. from Hunter College in 2013. In 2017, Zoe was named a National Geographic Young Explorer. Her research focuses on the role of monumental architecture in the rise of sociopolitical inequality and dynastic rulership in the Maya lowlands.
She is particularly interested in the strategies implemented in the Preclassic to centralize power and legitimize an emergent Maya elite. She has conducted research at a variety of sites across Belize, most recently focusing on the Preclassic center of Early Xunantunich in the Mopan Valley, where she is completing her dissertation project.
Place: Riverside Nature Center - 150 Francisco Lemos, Kerrville, Texas 78028