HCAA General Meeting, July 21, 2018
Doors open at 12:30 pm with refreshments. Lecture begins at 1:00 pm.
Speaker: Dr. Elton Prewitt, Research Fellow at TARL, University of Texas, Austin
Topic:

"The Mystery of Painted Pebbles in Prehistoric Cultures"
Abstract: 
Small painted stones found in dry rockshelters throughout the Lower Pecos Canyonlands have intrigued avocational and professional archeologists for nearly a century. Traditionally interpreted as ritual objects, they often are attributed to women's roles in increase rituals involving fertility and water abundance, with specific motifs linked to natural phenomena relating to life cycles. Post-painting breakage of painted pebbles is common. Once they were used for their intended purposes, they apparently no longer were sacred and were returned to secular use as mundane tools. Many pebbles, whether whole or broken, display pitting and scratching suggestive of knapping tools.
In this talk I discuss the history of pebble investigations, the previously defined styles of painted pebbles and their variability through time. I explore the differences in painting techniques, the colors used, and the kinds of stones selected in the sample of over 700 specimens currently under analysis. Some of the problems encountered during analysis of painted pebbles are reviewed, including preservation and post-excavation/collection treatment. Some of the component elements observed and their variation in placement are described. While interpretations of the meaning of the painted images are far from being identified, a few suggestions for avenues of research are provided.
My collaborators on this project are Dr. Jean Clottes of Foix, France and Dr. Carolyn Boyd who holds the Shumla Endowed Professorship at Texas State University in San Marcos.
[cycloneslider id="the-mystery-of-painted-pebbles-in-prehistoric-cultures"]
Bio: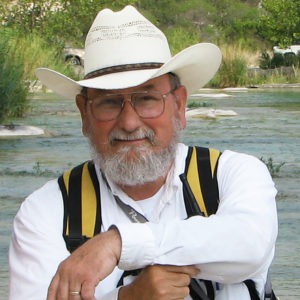 Mr. Prewitt (B.A., M.A.) is a Research Fellow at the Texas Archeological Research Laboratory, The University of Texas at Austin. A Registered Professional Archeologist, the retired co-founder of Prewitt and Associates, Inc, also holds an adjunct appointment in the Department of Anthropology at Texas State University. He currently serves on the boards of directors of the Shumla Archeological Research and Education Center, and the Gault School of Archeological Research.
His area of interest is Texas archeology, and over the past 55-plus years has worked in every part of the state. He has authored or co-authored numerous monographs, articles and book chapters, and has delivered over 90 papers, lectures and talks. His areas of specialty include southern plains prehistory, projectile point morphology, regional Texas chronologies and portable art.
A native of Kirbyville, Mr. Prewitt makes his home near Austin with his wife Kerza.
Place: Riverside Nature Center - 150 Francisco Lemos, Kerrville, Texas 78028