****HCAA Contest****
Held at General Meeting
January 20, 2018!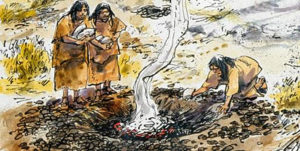 You are invited to participate in a fun contest and learning experience at our General Meeting on January 20th.
This contest is about something we have just learned regarding the HCAA's Kemosabe Archeology site. This occupational site is approximately 80 acres in size and the HCAA team has worked on it for four years. The Kemosabe team has recently assembled all of the data necessary to make an estimate of the total number of times Indians cooked with hot rocks (i.e., episodes or events) to form the largest of four fire cracked rock (fcr) middens we see at the site today.
You are invited to guess the number of cooking episodes for this large midden when you come to our General Meeting on January 20th. Simply submit your "number of cooking episodes" and your name on a piece of paper. Give this to the proper HCAA officials at the meeting. They will then review the answers and announce a winner.
Click here for more information on contest.
The prizes will be meaningful!