GENERAL MEETING, January 20, 2018
Doors open at 12:30 pm with refreshments. Lecture begins at 1:00 pm.
Speaker:

Dr. David Maltsberger PhD, Professor, School of Religion and Philosophy, Wayland Baptist University, San Antonio campus
Lecture Title:

"With My Own Two Hands": A Survey of Domestic, Military, and Agricultural Lithic Artifacts in the Ancient Near East
Abstract: 
The lithic story of the Ancient Near East extends from the Paleolithic period into later periods when copper, bronze, and iron implements began to appear alongside earlier stone tools. Yet, the widespread use of stone tools and weapons did not entirely diminish in the Bronze and Iron Ages.
Domestic hand tools,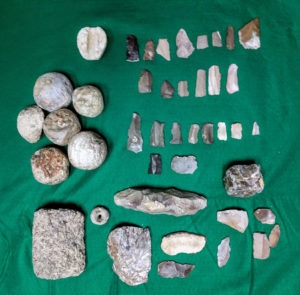 agricultural blades, and mace heads and slingstones provide insights into the extended functionality of these utilitarian collections that allowed for the settlement and conquest of the Near East despite changes in social structures and political rule.
Beginning with a survey of the development and spread of stone tools across the cultural spectrum, we will examine how various lithic assemblages that appeared by the Neolithic Period evolved and remained an integral part of the life of the peoples of the Levant for millennia side by side with their more durable metal counterparts.
Bio: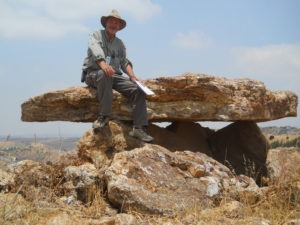 David Maltsberger serves as a Professor in the School of Religion and Philosophy at Wayland Baptist University's San Antonio campus. Since 1984 he has participated in and served as principle investigator on archaeological projects in Israel, Jordan, and Turkey. His work has included studies of Late Bronze Age scarabs and seals in Israel, several surveys of Jordanian megalithic funerary monuments of the Early Bronze Age, and, more recently, studies of of Greco-Roman sacred iconography in SE Turkey. He and his wife Elaine live in Boerne and have four adult children.
Location: Riverside Nature Center – 150 Francisco Lemos, Kerrville, Texas 78028